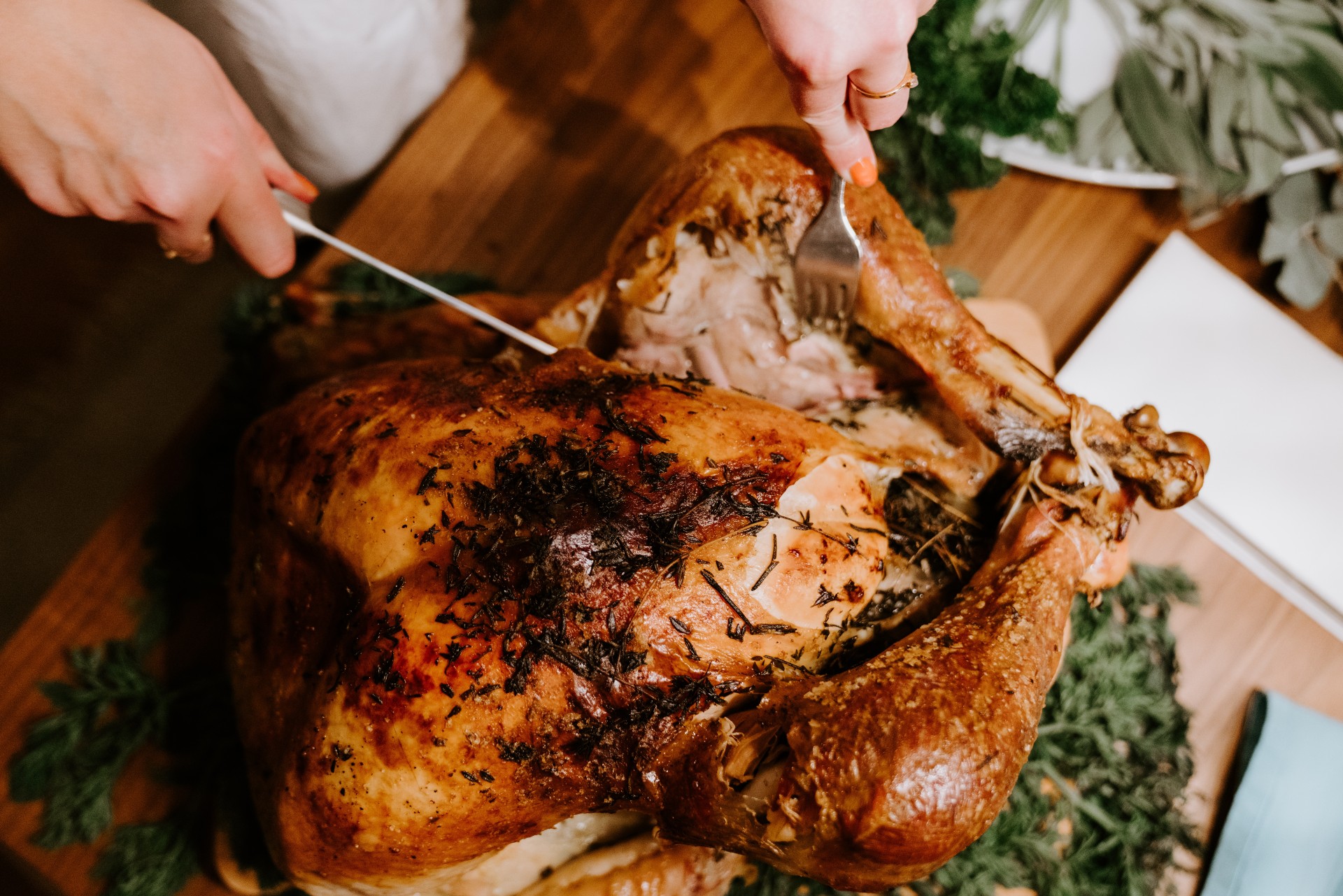 This post is not going to be about traditional keto Thanksgiving meal ideas; you can google and find tens of thousands of recipes for keto Thanksgiving dishes.
Rather, it is about strategy. In my opinion, it's extremely important to plan for holidays or other special occassions in advance. Nothing screws you up as rapidly as not having a plan.
Anna reminds me regularly that we don't need food to celebrate and I agree with that wholeheartedly. My ELAB anniversary, I celebrated with a week-long fast! A vacation from meal-planning, shopping and cooking, just some decadent resting and extra time for playfulness that week.
Thanksgiving has always been about turkey in my world and I had prepared the traditional turkey with sides year-after-year for decades before it occured to me that… I just don't like turkey. I don't dislike it particularly, I just prefer chicken. Or if splurging, duck. Turkey is just something I'd never prepare for *myself*.
So thinking outside the box both for those who want a non-turkey dinner and those who want to plan ahead for Christmas, here's some ideas.
I don't do cheat meals, in the sense that I don't eat non-keto foods. My meals generally consist of either an RBS, or a similar cooked meal (around 3/4 pound of low-carb veggies, 1/2 pound meat, and toppings/sauces that add up to around 1000-1200 calories total).
I don't "try" to get macros right, in the sense that many keto folks do. I'm not aiming for a certain percentage of fat in my meals, as I still have plenty to "eat" on my belly and butt. I'm not as interested in burning dietary fat as the stuff I'm still carrying around; I've got plenty to fill up my fat macro on this body.
I do have splurges though. My celebration meals stay keto though as while I'm willing to give up a day or two of weight loss to indulge in excess calories or a few bucks to indulge in something extra yummy, I'm not willing to screw up my hormones and have to struggle to get back on the wagon. For me, special meals are things I usually eschew, like recipes that start with one or more blocks of cream cheese, or meals eaten out (pre-covid), or foods that are just too expensive for every day.
I rarely consider keto dessert or "bread" recipes, as I never had much of a sweet tooth anyway and I've been there/done that and stayed fat and diabetic, so don't keep all those specialty ingredients on hand much anymore. Also, frankly, the RBS has turned me into a very lazy cook. 😉
Probably my all-time favorite splurge when I eat out is prime rib at Texas Roadhouse. A local restraunt has something they call a city salad, which is basically an RBS topped with grilled steak and portabella mushrooms, but they also have a bacon-wrapped scallop appetizer I love. There's an awesome wings joint not too far away that has unbreaded wings that kick butt with their garlic/parmesan/butter sauce. For a fast meal out, I order fajitas at Chili's and throw the sizzling meat, peppers and onions, cheese, pico de gallo and sour cream over a side salad. Even faster meals could include the Five Guys protein-style burger or a Chipolte's bowl.
At home, I'm more likely to splurge with a ribeye steak, scallops pan-fried in browned butter, or a decadent high-calorie omelet.
But there's so many other ideas, both for eating out and for having at home; lobster, crawfish, crab legs, oysters, shrimp, caviar, dry-rub baby back ribs, pork belly, filet mignon, veal cutlets, osso buco, marrow, lamb chops, duck breast… and sauces made with too much butter, heavy whipping cream, brie or marscapone cheese.
Yum!
Last year, because I'd prepared Canadian Thanksgiving for my in-laws, and had no desire to do it all again a month later with another turkey, we went out for the aforementioned city salad for our main meal. But I had a bit of a splurge beforehand which I posted about…
We did Canadian Thanksgiving with Steve's family last month, so I'd no desire to do all that cooking again. We're going out either tonight or tomorrow to celebrate, to the local joint that has an RBS-like salad with steak and portabella mushrooms.

But last night, I did feel sort of like doing something a bit special for myself. I had a bit of a keto splurge. I made a cream cheese and chives omelet, with chaffles with loads of bacon in them. Technically within the rules of keto and eaten in under an hour, but a whole heck of a lot of calories. I can treat myself without screwing up my bG.

Yesterday and today, reading the group, so many of you did similar – and it's awesome to see so many who managed a "splurge" to celebrate without indulging in a bunch of carbs.

A few ate off-plan as they'd planned, and I think the *intention* matters a great deal; it's the difference between treating yourself and falling off the wagon. I think this makes a huge difference psychologically even if it doesn't necessarily hormonally, but even hormonal damage is limited if the event is planned and limited.

There are probably some who fell off the wagon too. And depending on how far off the wagon, the hormones may change a great deal and make it difficult to restart.

But you must! You can't throw away your progress. Guilt and shame will raise their heads and make you feel as if you don't deserve to grow strong and healthy, as if your momentary weakness means you deserve to be weak and sick. It's a lie!

Get your head back in the game! Rewatch all of Amanda's videos, read success stories here, hit up Youtube and watch Dr. Berry, Dr. Fung and other keto/fasting channels. Get yourself excited about this plan again, about what you can accomplish.

Kick the guilt and shame to the curb and hold your head up high. GROWL. You're a bear.