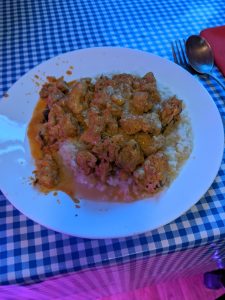 I cooked quite a number of curries for Steve before I discovered one he liked: my best butter chicken recipe. We're both crazy about this recipe.
When making a batch for him when new on this journey, it occured to me that it was quite keto enough for me if I just swapped out the rice.
I generally cook one cup of rice for a batch of this for him, and make cauliflower rice for a second batch for myself, doubling the recipe. Doubling it does require a wok rather than just a large skillet, but given most of the work is in the prep, it seems worthwhile to me to go ahead and double it. We never get tired of butter chicken around here!
The first time I made this, I cooked the cauliflower rice in minimal broth and it came out a bit too soupy for my liking. Instead, I'd recommend my roasted cauliflower rice.
TIPS: Frustrated with ginger root drying up before I used it up, I began shredding the entire root (not even peeled) in my food processor, then freezing flat in a ziploc bag. This allows me to just break off a piece when needed.
This worked so well that I began doing it with fresh turmeric root as well (this will stain your food processor bowl though!)
Because I grow grey shallots, and they are very small compared to the store-bought shallots and don't keep as well, I peel, shread and freeze them when I harvest so it's done also.
Having these 3 ingredients already minced makes putting together recipes much faster and easier than usual; but you can also swap out the fresh herbs and spices for dried to save even more time.
I generally don't do a lot of mise in place, but this recipe has a lot of prep and cooks fast, so I prepare everything in advance.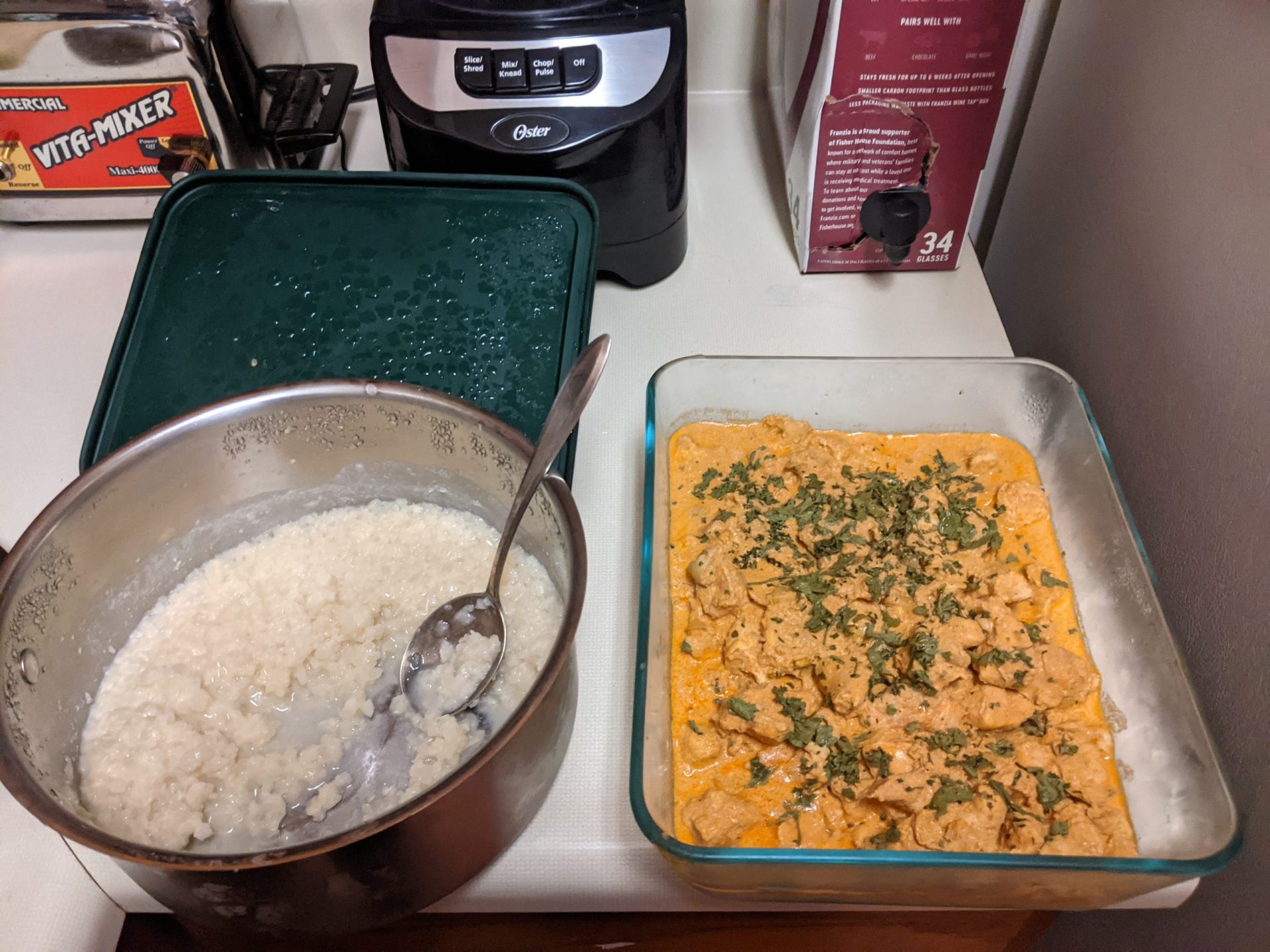 best butter chicken
Ingredients
small shallot, minced (around 1 TB)
medium onion, diced
ginger root, minced (around 2 TB)
turmeric root, minced (around 1 tsp)
5 TB butter, divided
2 tsp lime juice
6 cloves garlic, pressed
2 tsp garam masala
1/2 tsp chili powder
1 tsp cumin
a bay leaf
1/2 cup tomato paste
1/4 cup sour cream
1/2 cup heavy cream
1/8 tsp cayenne pepper
1/8 tsp freshly ground black pepper
2 lbs bonesless, skinless chicken breast
1-2 TB cashew butter
1/4 cup dry cilantro

Method
Place shallot and onion in a small bowl.
Place ginger, turmeric, 4 TB of the butter, lime juice, garlic, garam masala, chili powder, cumin and bay in a second small bowl.
Measure the tomato paste.
Put creams and peppers in a third bowl.
Chop chicken into bite-sized pieces.
Heat 1 TB butter in Dutch oven over medium heat. Add onion/shallot and cook until just translucent.
Add ginger mixture and stir constantly for 1 minute until fragrant.
Stir in tomato paste and cook for 2 minutes to carmelize.
Add chicken and cook with occasional stirring for 10 minutes.
Stir in cream mixture and reduce heat to low; simmer for 15 minutes.
Stir in TB cashew butter to thicken sauce; if still thin, stir in a second TB. Remove bay leaf.
Remove from heat and sprinkle cilantro over.
Optionally: stir in 8 drops Concentrace, 4 drops vitamin D3, 4 drops vitamin K2 for a nutrition boost.
Serve over rice for non-keto folks, over sheet pan oven-roasted cauliflower rice for keto
This is the most scrumptious 16 g net carbs I've ever eaten!