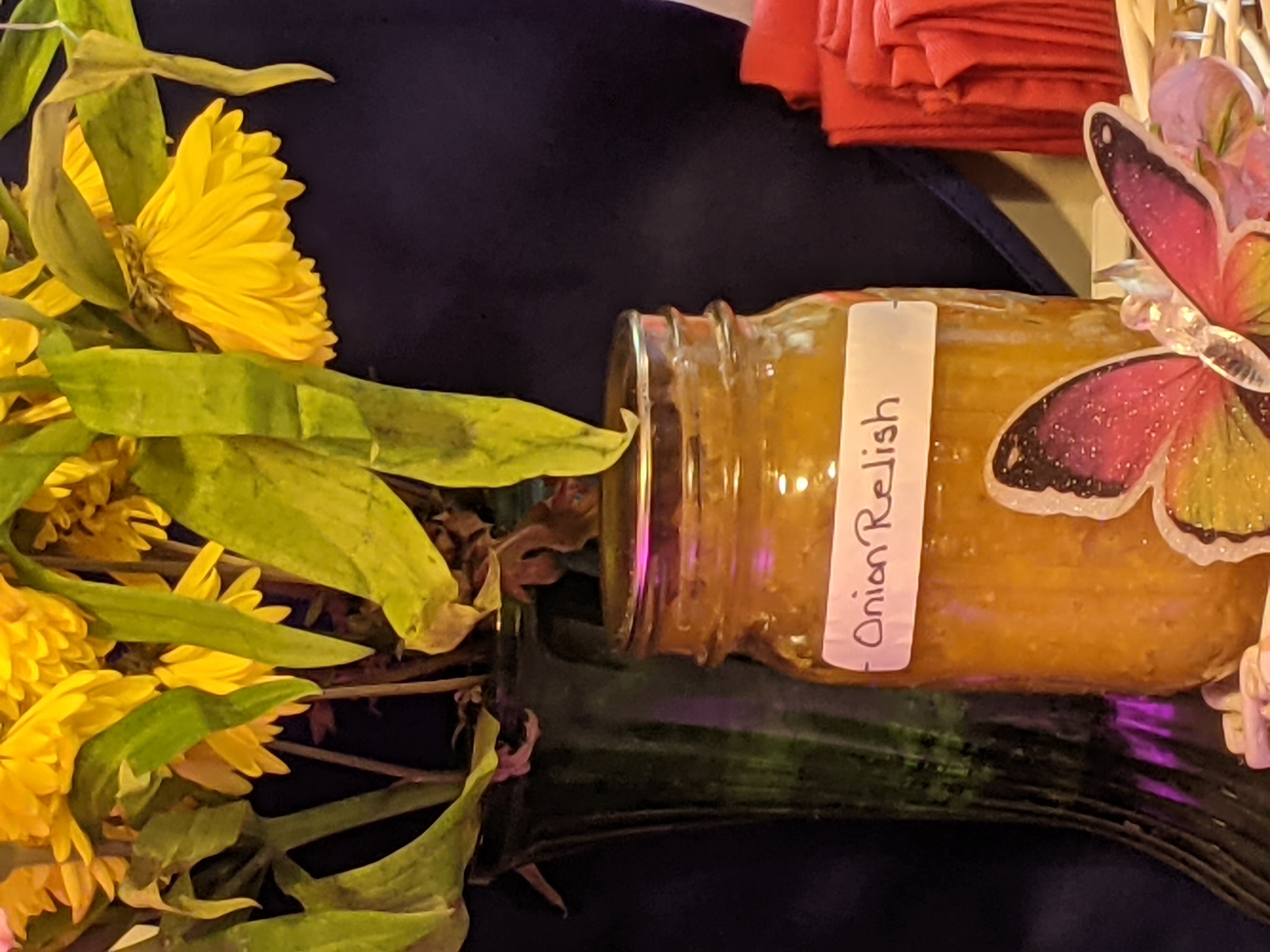 It seems most people like to use onion relish for hot dogs or burgers, but personally, I most like it with Polish sausage or smoked sausage. While onions are a bit carby for me, I don't use relish in large enough quantities for my bG meter to really notice. As a condiment, it doesn't make much difference, but I suggest not eating a pint as a side dish!
It's made with stevia so it is keto-ish, but I imagine most keto apps would tell you it's bad if you ran the macros. The apps can go jump in a lake, I will have a few tablespoons with my sausage and my bG meter is still happy!
simplifying canning
My recipe is a canning recipe, but has enough vinegar that it doesn't require a pressure canner; a water bath canner is fine.
In the real world, this basically means a pot that you can put the jars in and have them covered with boiling water; most stock pots would be fine. As a general rule, you want a trivet or kitchen towel in the bottom of the pot to keep the jars off of direct heat so they don't shatter. Most of us probably have something we can use without specifically buying a canner; you just need a set of pint-sized jars with two-part lids, available at any grocery or dollar store this time of year.
Appropriate jars for making relish
(Amazon affiliate link)
The wide-mouth jars tend to be shorter and thus easier to submerge in a pot you already own. The jars come with lids, though if you reuse the jars, you will need to buy more lids as the lids only seal properly once.
There's a link for appropriate jars to the right, but honestly, you can probably find them locally much cheaper as they're not cheap to ship; on the other hand, Amazon may get them to you before you can get to the store!
best onions
Making my homemade sweet onion relish is an annual event around here. Onions that are good for storage and thus available year-round tend to be pungent; we want to make this with sweet onions, which don't keep as well. Typically, I make it with Vidalia or Walla Walla onions, and they tend to be available seasonally.
Vidalia onions come into season in April and may continue as long as early September in a good year, but in a bad year may be hard to find by August. Walla Walla onions are typically not in season until June or July and continue through August. Basically, given it's August as I write this, it's time to get my sweet onion relish made for the year!
If you don't absolutely love this, I don't know what to tell you! It is likely the last of my preservation recipes that I'd give up as it's my absolute favorite (though I really enjoy my fermented garlic dills, fermented dill pickle relish and bread and butter pickles too!) Most years, I make a double batch.
CANNING: SWEET ONION RELISH – Makes 3 pints.
INGREDIENTS
about 3 quarts (7-9 medium) sweet white onions
1/4 cup canning, pickling or kosher salt
2 cups apple cider vinegar
1/2 tsp turmeric powder
1/2 tsp PLAIN powdered stevia (not something with additives to bulk it up, that will measure very differently)
1 cup water
METHOD
Peel and grind the onions; the "shred" blade of a food processor works for me.
Mix the onions with the salt in a large non-reactive (plastic or glass) bowl. Let stand for 30 minutes.
Place onjions in a coalnder and squeeze as much juice out of them as possible. Let drain for 1 hour.
Fill hot-water bath canner with water and bring to boil. Place 3 pint jars in bath to sterilize.
Combine the rest of the ingredients in a Dutch oven and bring to boil.
Add drained onions and simmer for 30 minutes.
CAREFULLY remove each jar from boiling water bath and ladle relish into it, leaving about 1/2 inch head space.
Place the flat part of the lid on each jar, then finger-tighten the ring over it to hold the lid securely in place.
CAREFULLY place each jar in the boiling-water bath, making sure the water covers the top. Boil for 10 minutes.
CAREFULLY remove jars from bath and place on a kitchen towel to let cool.
Once totally cooled, remove the rings. Check that the lid is sealed. Label and store in a cabinet.
If one didn't seal, you can just stick the ring back on and refrigerate it to use in the near future.
Enjoy!