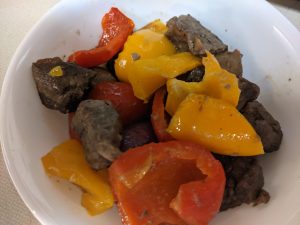 Though I grew up in a predominantly Italian town, Greek food is pretty much the culinary cousin of Italian. Lamb kebabs were common food in all the little mom and pop joints and a staple for lunches in bars. Here in central Pennsylvannia, lamb is much less common.
I noticed a new meat vendor at my farmer's market last summer, and she had lamb available. Thinking of those kebabs I grew up with, I realized that though they were usually served with seasoned rice, they could be keto-ified easily by serving over a bed of greens as an RBS. In short, lamb kebabs would be a great RBS protein topper.
Knowing I would be marinading them which would tenderize them, I bought cheap stew meat chunks. Though I don't have a grill, I figured they'd work well enough in the oven. I just needed to get some skewers.
It was summer, so my grocery was selling prepared kebabs (though not lamb!), but though they were obviously using skewers to make those grill-ready items for sale, they didn't actually sell skewers. Frustrated, it occured to me that since I was planning on doing them in the oven, I didn't need skewers, which are really there to make everything easy to turn on the grill.
So I proceeded without either a BBQ or skewers and am I glad I did!
The key is a good lamb kebabs marinade and figuring out how long to cook lamb kebabs in the oven, depending on how well done you like your lamb.
For the marinade, I used my Creamy Italian dressing recipe, which I make in a pint jar. It makes 4 servings and I use a single serving (a half cup) to marinade the lamb.
I like my lamb cooked slightly more than beef, so between medium-rare and medium. Of course, figuring out how long to cook will also depend on the size of the chunks of meat.
As per my usual, this recipe makes 4 servings, which conveniently works out with my tzatziki recipe which also makes 4 servings. Add a bunch of lettuce and you've got some really truly scrumptious RBS meals!
---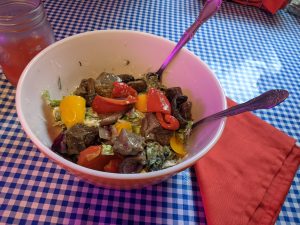 skewerless oven-roasted lamb "kebabs" recipe
Ingredients
2 lbs lamb, cut into bite-size pieces
1/2 cup creamy Italian dressing (see below)
1 red onion
4 bell peppers (I prefer different colors)
1 lb mushrooms
Method
Marinade lamb in dressing for an hour at room temperature.
Preheat oven to 450.
Thickly slice onion into wedges. Cut bell peppers into 1/2 inch chunks. Clean mushrooms, slice big ones in half.
Toss veggies with meat, then lay out in a 9 x 13 pan. Place in oven.
Toss meat and veggies with tongs every 5 minutes, being gentle with mushrooms and onions, until meat is done to your liking.
---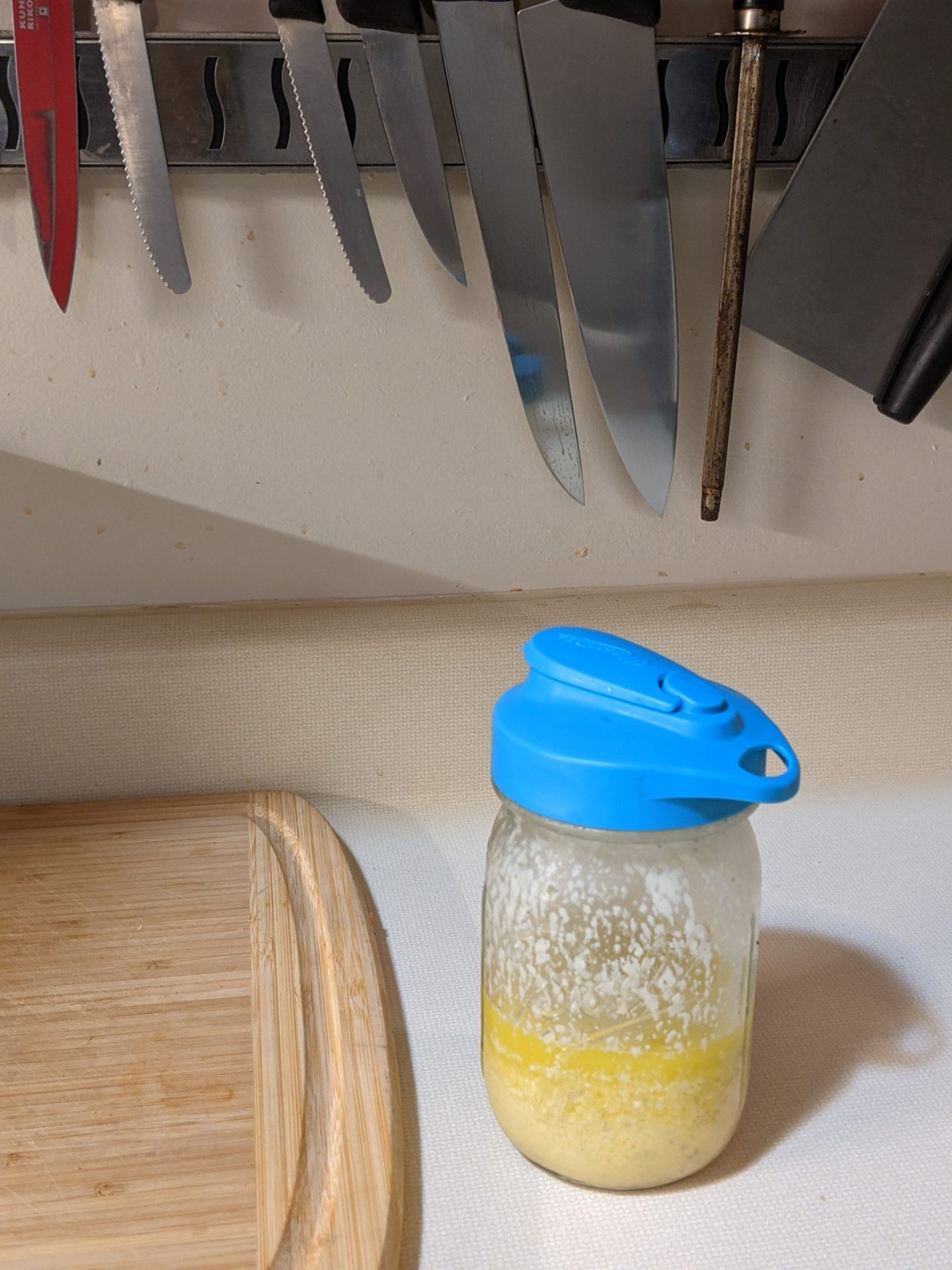 Creamy Italian Dressing
Ingredients
1 cup olive oil
1/4 cup white wine vinegar
1/4 cup water
1/4 cup Parmesan
1 TB mayo
1 TB Greek yogurt
1 tsp sea salt
3/4 tsp garlic powder
1/2 tsp dry oregano
1/2 tsp dry parsley
1/3 tsp onion powder
1/4 tsp freshly ground black pepper
pinch of dry thyme
Optional: 1 TB sunflower lecithing (helps to emulsify)
Optional: 1/2 tsp Concentrace, 4 drops vitmain D3 and 4 drops vitamin K2 (to boost nutrition)
Method
Place ingredients in wide-mouth pint-sized mason jar.
Buzz with immersion blender to emulsify, or place lid on and shake to mix manually.
Cap and store in refirgerator.
---
The lamb makes a truly scrumptious protein topper for an RBS. I prefer it with romaine hearts and tzatziki salad dressing.
ENJOY!