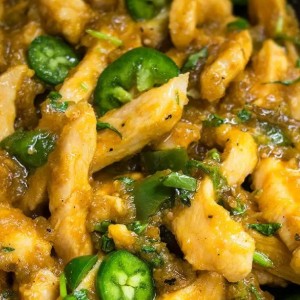 This keto version of salsa verde chicken from Half My Size with Soups, Skillets and Sautes rocks my world!
I first read the Half My Size with the Ridiculously Big Salad book in August 2019, when Amanda asked me for my thoughts as she was rewriting it. One of those thoughts was that she needed to write a "cooked" RBS book, which she said Anna had already suggested!
Those of us who cook followed the basic RBS framework to invent our own cooked recipes, such as my sausage gravy casserole, corned beef and cabbage, chicken and bok choy stirfry, chicken and zucchini stirfry, vegetarian zucchini lasagna and my rouxless gumbo, but many others asked for a collection of "cooked RBS" recipes for quite some time.
With managing the Eat Like a Bear community and producing much content for us, it took a couple years of nagging before she finally unveiled Half My Size with Soups, Skillets and Sautes.
The truly brilliant thing about this book is that it is a cookbook for non-cooks. I've often been discouraged in the past trying to advise my non-cooking friends about eating healthier. This collection of recipes take around 10-15 minutes to prepare, and most of that is the cook time. This is an awesome tool for those who just aren't cooks, with recipes just as simple as the original RBS. The recipes consist of copious amounts of vegetables, adequate protein and sauces made from healthy fats, but are basically "dump and cook" recipes, relying heavily on frozen bags of veggies, precooked protein and mostly dried spices.
But I admit that even for those of us who have been cooking and inventing recipes forever, these recipes are awesome. On the one hand, we can easily upgrade them using standard techniques, such as replacing garlic powder with fresh garlic.
But as Amanda discusses in the "Good Day, Bad Day strategies" section of the book, even those of us who greatly enjoy cooking aren't necessarily up to it every day. These recipes are not "gourmet", they are intended to substitute for those days you're tired and hungry and tempted to hit a drive-thru. They are all fast and simple, with minimal prep and minimal cleanup, and provide a much yummier and healthier meal than you can get from a fast food joint.
On the good days, you can batch cook protein and/or make homemade broth if you choose, making the bad days even yummier, though buying precooked protein and cartons of broth works too.
My quandary when I first got my hands on it was knowing where to begin as so many of the recipes tempted me.
Chicken Teriyaki or Sausage and Mushroom Gravy?
Beef Stroganoff or Zuppa Toscana Soup?
Pizza in a Bowl or Clam Chowder?
Chili or Peanut Shrimp Skillet?
Herdez is the brand of salsa verde I found locally
– if you aren't as much as a wuss of me, you might want to upgrade from the mild version
I tried a number of those, but luckily for me, I tried the Salsa Verde Chicken recipe early on. It attracted me because of it's okra base, one of my favorite vegetables; if you don't like okra, I'd suggest trying it with cauliflower. Honestly, I'd never actually eaten a tomatillo before, but this has become a staple in my life; I always have salsa verde sauce in my kitchen now!
And luckily for you, Amanda kindly gave me permission to share it here.
INGREDIENTS
8 oz chicken breast, cooked (I prefer thighs)
12 ounces okra, frozen
¾ cup salsa verde
½ cup chicken broth
1 tsp cumin powder
½ tsp coriander
½ tsp salt
½ tsp pepper
½ cup sour cream (full fat)
1 cup grated cheddar
METHOD
Warm your skillet on medium high. Add the vegetable base portion of the recipe add to the skillet.
Add your protein – Especially if it is frozen, add it on top of the vegetables so that it can begin to defrost.
Add the salsa verde, broth and spices. Cover it with a lid as you prepare the sauce.
Mix the sour cream and cheese in a small bowl.
Cook until done (time will vary depending on your stove and whether protein is thawed, 10-15 minutes or so). Then add the sour cream mixture and stir until barely heated through with the cheese melty.
This makes a single serving, reported in her book as 1213 calories with 33 grams net carbs. But honestly, I make a quadruple recipe in a big Dutch oven and eat the leftovers for days. I really love this stuff!
This is just one of the numerous fast, easy and yummy recipes available in her book.
Every day for several months now, we have several posts from folks of both the cooking and non-cooking persuasion, ranting about how awesome the latest recipe they tried was. I mean every single day! This book is incredibly popular.
Just head over to the sales page and see if the table of contents doesn't have you salivating! Check it out: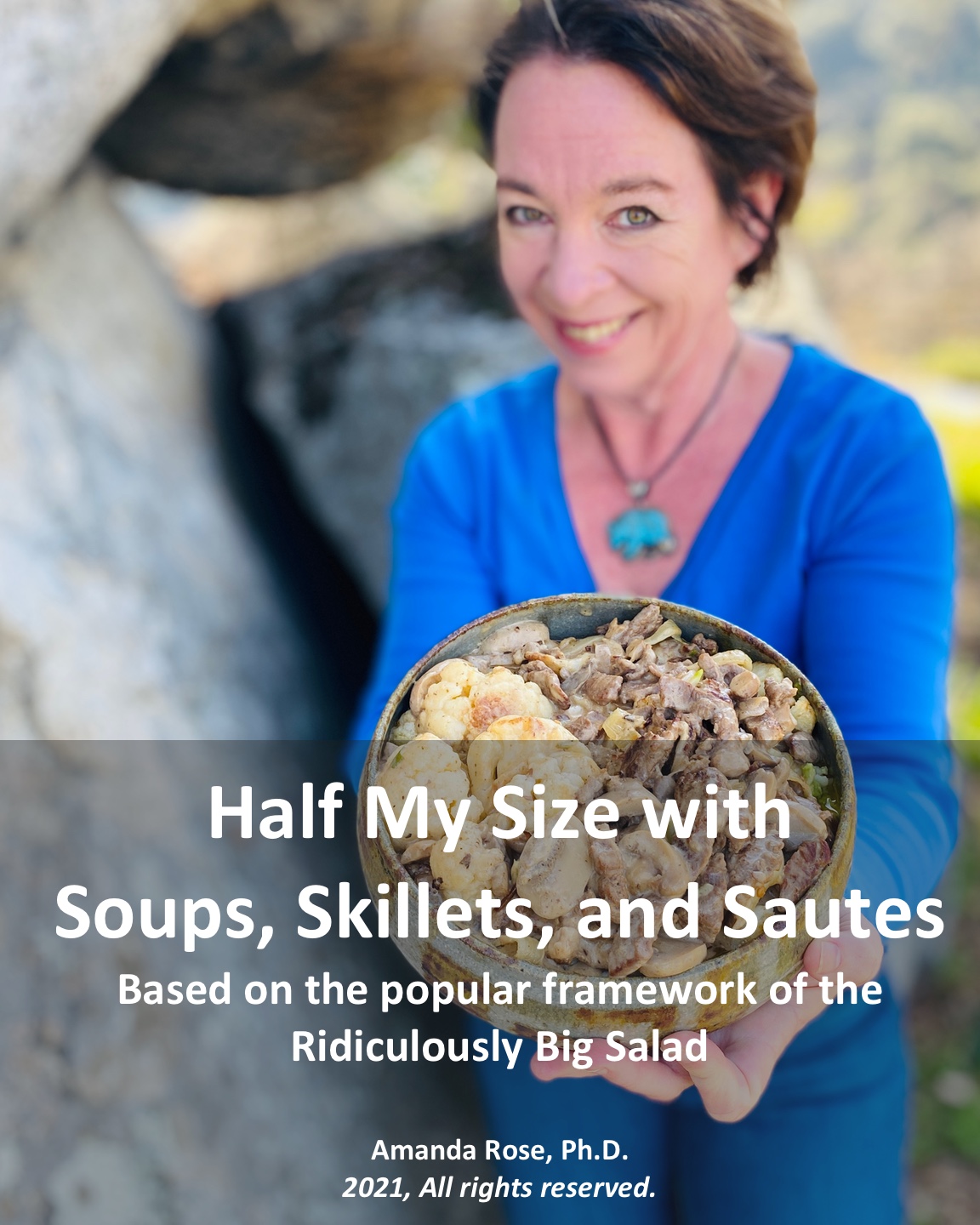 Half My Size with Soups, Skillets and Sautes