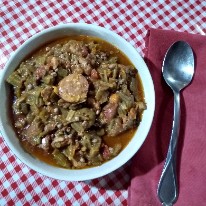 The roux in gumbo is used partially as a thickener (as is the okra and filé powder), but also to add caramelization notes, as it tends to be a dark roux.
I found a number of keto gumbo recipes out there, but my own experience with almond and coconut flours did not lead me to expect good results using either of those to make a roux. I decided to double up on okra, which I love, for some added thickening.
For the caramel flavor, I chose to caramelize my onions. Between that and the filé powder, this came out tasting like a real gumbo.
To roux, or not to roux–that is the question:
Whether 'tis nobler in the belly to suffer
The slings and arrows of coconut flour
Or to saute almond meal until it browns
And by cooking, keto it. To cook, to eat–
No carb–and by a meal to say we end
The heartburn, and the thousand blood glucose shocks
That flesh is heir to. 'Tis an inflammation
Devoutly to be avoided. To cook, to eat–
To eat–perchance to be yummy: ay, there's the rub,
For in that cooking what dreams may come
When we have shunned this mortal roux,
Must give us pause.
OK, enough of THAT. 😉
Ingredients
2 medium onions, sliced thinly
6 TB coconut oil, divided
few pinches of salt
5 stalks celery
1 large bell pepper (traditionally green, but I used orange)
2 cloves garlic
2 lbs okra (I used frozen)
12 oz sausage (I used smoked beef sausage, but andouille would be better)
15 oz can diced tomatoes
1 tsp black pepper
1 tsp mustard powder
3/4 tsp cayenne powder
3/4 tsp paprika
1/4 tsp turmeric
1/2 tsp garlic powder
1 lb boneless, skinless chicken thighs
2 cups chicken bone broth
bay leaf
optional: 1 lb precooked shrimp
1 tsp filé powder
Method
Cut onions in half, then slice thinly. Melt 4 TB coconut oil in a heavy skillet over medium heat; toss the onions in oil and sprinkle lightly with salt to begin the carmelization process. At first, turning them with tongs works best, but as they soften, a spoon is preferred. For the onions to go from raw to soft to translucent to lightly browned to truly dark brown will take close to an hour. You need to keep an eye on them and stir occasionally; once they are truly well-carmelized, remove to a Dutch oven with a slotted spoon.
Meanwhile, dice celery and bell pepper. Press or mince garlic. Slice sausage into bite-sized pieces. Get out 2 lb frozen okra or slice if using fresh. Open can of diced tomatoes. Mix black pepper, mustard, cayenne, paprika, turmeric and garlic powder on a plate. Pat 1 lb boneless, skinless chicken thighs dry, then press them in the spices on all sides to liberally coat them with the spice mixture.
After removing the onions, add another 2 TB coconut oil to skillet and when it is melted, fry the chicken thighs, approximately 6 minutes on each side. Remove to a clean plate; when cool enough to handle, cut into bite-sized pieces and add to the Dutch oven.
While the chicken cools, add the sausage, peppers and celery to the skillet and cook until the vegetables are softened and the sausage has begun to brown. Add the garlic and stir for just a minute; remove pan from heat and add contents to Dutch oven.
Add 2 cups chicken broth, the okra, tomatoes and bay leaf to Dutch oven; bring to boil, reduce heat and simmer about 40 minutes.
Remove from heat before stirring in 1 tsp filé powder. Discard bay leaf.
Nutrition & Serving Suggestion

NOTE: The optional shrimp adds about 25 g protein and about 100 calories per serving.
This not being enough for an OMAD meal for me, I add a small salad on the side, about a half head of romaine and a half batch of Amanda's ranch dressing.