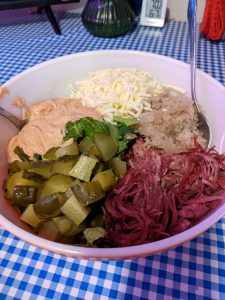 This bright idea was first proposed in the ELAB group by my friend Jennifer; this is my version.
If you made my corned beef and cabbage recipe, you've got 8 packs of corned beef in your freezer now. If not, you can just buy some deli pastrami to enjoy this salad!
I recommend choosing fermented sauerkraut and dill pickles (in the refrigerated section of the store), but honestly, they're too rich for my blood; I make my own for the sake of frugality. But I expect whatever you buy would be equally yummy!
I also recommend quadrupling the dressing recipe as besides being cheap, I'm also lazy!
For one Reuben Ridiculously Big Salad (RBS):
INGREDIENTS
however much greens works for you, in bite-size pieces (I use about 1 romaine heart)
1/2 – 1 cup sauerkraut
1-2 sliced dill pickles
8 oz precooked corned beef (or shaved deli pastrami)
2 oz swiss cheese, diced
3 TB mayo
3 TB full-fat Greek yogurt
2 TB tomato paste
2 TB spicy brown mustard
fresh parsley, chopped to yield 1 TB (or 1 tsp dried)
fresh chives, chopped to yield 1 TB (or 1 tsp dried)
fresh dill, chopped to yield 1 TB (or 1 tsp dried)
2 scoops stevia, or to taste
METHOD
Put first five ingredients in a VERY large bowl.
Mix up the rest of the ingredients in a small bowl to make Russian dressing.
Sprinkle salad with caraway seeds for some "rye bread" flavor.
Toss and enjoy!