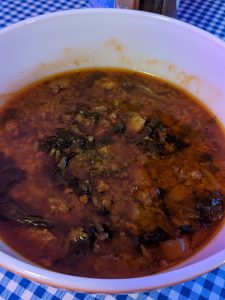 For me, this soup is unique in that I have never had a dish with so many vegetables that is quite so hearty as Italian sausage vegetable soup.
Whether you choose spicy Italian sausage or sweet (my preference), the bulk vegetables are well-flavored with meat, broth, garlic and seasonings. Rather than struggle to increase your vegetable intake, you'll scoff this down!
Though I make it as a keto OMAD meal, I've fed it to non-keto multiple-meal folks who loved it.
I suppose you could stretch it by cooking some pasta separately and placing a serving in a bowl before ladling this simple Italian sausage soup over it. Or you could serve it with some good crusty Italian bread and butter.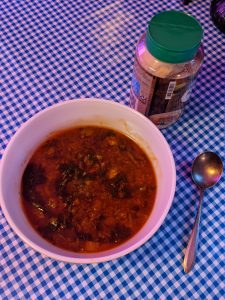 But honestly, no one's ever suggested they needed anything more… except a second bowl.
My niece and her girlfriend were visiting recently, and though neither of them is into low-carb or time-restricted eating, they loved it served with some Parmesan.
In fact, they insisted on eating leftovers another day.
Red pepper flakes could also be a good addition for those who like things hotter.
I've been known to double this recipe and cook it in a stockpot; freezing half so there's a future week where little cooking is needed. I *know* I'll want it again soon!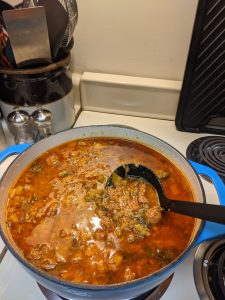 ITALIAN SAUSAGE SOUP
Ingredients
2 TB coconut or avocado oil
2 lbs Italian sausage, sliced into bit-sized pieces (or buy as bulk sausage without casing)
3 bell peppers, sliced (or 3 cups diced frozen)
1 medium onion, sliced
6 cloves garlic, pressed
2 quarts beef bone broth (chicken or pork broth can be substituted)
small (15 oz.) can of diced or crushed tomatoes
1 lb frozen mixed broccoli & cauliflower (or fresh, sliced)
1 lb frozen mixed zucchini and yellow summer squash (or fresh, sliced)
1/2 lb fresh or frozen greens (spinach, mustard greens, turnip greens, rapini, Swiss chard, kale, etc.)
1 TB fresh basil, minced (or 1 tsp dried)
1 tsp dried oregano
1/4 cup extra virgin olive oil

method
Heat half the oil over medium heat in a large skillet. Fry the sausage until browned on all sides (doesn't have to be cooked through). Removed to Dutch oven with slotted spoon.
Fry peppers and onions in batches, adding additional oil as needed, then remove to each batch when the onions are translucent and peppers slightly blackened.
Cook the garlic with the last batch of vegetables for just a minute, until fragrant. Scrape all the contents of the pan into the Dutch oven.
Add all the rest of the ingredients except the olive oil.
Bring to boil over medium-high heat, then cover and lower heat to simmer. Allow to simmer for at least 4 hours to fully mix flavors.
Remove from heat and stir in the olive oil.
Optionally, I also add: 1 tsp Concentrace, 6 drops vitamin K2 and 6 drops vitamin D3 to boost the nutrition.
I usually eat this as an OMAD meal, at 25 net g carb and 1230 calories.
But sometimes I eat a half serving, having a side salad with creamy Italian dressing for the other half of my meal.
However you eat it, ENJOY!