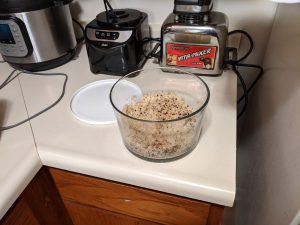 I am not the person who is going to tell you that cauliflower rice tastes like rice, any more than mashed cauliflower tastes like mashed potatoes. It's not true and expecting it to be so is just going to lead to disappointing results.
However, cauliflower rice can *work* like rice, in that it is a bland food that will pick up the main flavors of a dish while providing quite a bit of fiberous food to satiate your belly, at significantly less carbs and calories than rice.
When I was preparing to make butter chicken for my wasband, I considered that the recipe was keto except for the rice, and decided to try caulflower rice for myself.
I made two mistakes, the first being to rice the cauliflower in my food processor myself. Not that there's anything wrong with doing that if you choose too, but my butter chicken recipe is already a bit complex, and I realized rapidly that if making cauliflower rice was going to involve a cutting board, my food processor, and cleanup of both, it was not a good replacement for throwing rice and water in a pan.
My second mistake was thinking that given I often make ordinary rice with bone broth to boost the nutrition, I'd do the same with cauliflower rice. Though I used very little broth, my rice came out rather soupy. As it happened, the butter chicken was flavorful enough to get me through using up the rice well enough, but it was an unsatisfactory experiment.
Luckily, I knew not to make the most common mistake, overcooking the cauliflower. Any of the brassicas (cauliflower, broccoli, cabbage, brussel sprouts and so on) release their sulfur when overcooked. This is the reason so many people think these veggies are icky. Though the sulfur compounds inherent in the brassicas are great nutritionally, they don't taste particularly good when those compounds are released with overcooking, which is very easy to do when the pieces are so small.
So my next try with cauliflower rice, I purchased bags of the frozen stuff. Wegmans sells 16 oz bags of cauliflower rice, and I bought 3, for a total of 3 lbs. They lay nicely flat in the freezer and don't nag me to use them up like fresh veggies do, and there's no prep involved nor cleanup from the ricing process.
Knowing that I needed to cook it rapidly, I skipped the entire idea of doing it on the stove top, broth or not – I don't have a large enough pan. Instead, I decided to roast the whole batch in quarter sheet pans.
The cauliflower can be cooked until slightly browned, providing a warm, toasted flavor that is almost nutty. Crispy, but still rather bland, any combination of spices could be used to compliment the dish it's being served with.
I do go ahead and cook 3 packages in 2 quarter sheetpans, because the leftovers work fine for future meals. I have no problem going through 4 servings of cauliflower rice before it deteriorates.
While it does take a while to roast to my satisfaction, I can do it while I'm otherwise working in the kitchen or while watching TV or something. It takes time, but relatively little work since my cutting board and food processor aren't involved.
sheetpan oven-roasted cauliflower rice
Ingredients
3 lbs frozen cauliflower rice
4 TB coconut, olive or avocado oil (if using coconut, melt the oil)
desired seasoning (see below)
Method
Remove cauliflower from freezer and let sit for about 15 minutes to semi-thaw.
Preheat oven to 400.
Line two quarter sheet pns with foil for easy cleanup.
Open a corner of the bag and twist the entire bag, to remove excess water; which can be poured off. This will make the cooking a bit faster.
Put half the cauliflower on each sheet pan; drizzle with the oil and add seasonings. Mix thoroughly by hand and spread over the sheet pan.
Roast for 15 minutes, then remove from oven and stir with a spatula. Rotate pans and return to oven for an additional 15 minutes. Repeat until cauliflower has roasted a total of 45 minutes.
The entire batch will not be browned, just bits and pieces of it, but it will all be dry.
Optionally: I place the cauliflower rice in a large serving bowl and stir in 1 tsp Concentrace, 1 tsp sunflower lecithin, 4 drops vitamin D3 and 4 drops vitamin K2 to boost the nutrition. Additional flavoring components can also be added at this step (see below).
seasoning options
For each of these options, choose the oil that most compliments the dish, add half the seasonings to each sheet pan before mixing, and stir in the extras after cooking.
Italian

choose olive oil
mix in 4 pressed cloves garlic, 4 TB parmesan
extras: stir in 2 TB minced fresh parsley

Spanish

choose olive oil
mix in 1 TB Sazon seasoning, 1 TB onion granules
extras: stir in 4 TB tomato sauce

Mexican

choose avocado oil
mix in 2 TB cumin, 1 TB onion granules, 1 TB paprika, 1/2 tsp turmeric, 1/8 tsp chili powder
extras: stir in 4 TB minced fresh cilantro and juice of one lime

Asian

choose coconut oil
mix in 2 pressed garlic cloves, 1 TB diced ginger, 1 tsp dry turmeric
extras: stir in 2 TB tamari, soy sauce or coconut aminos, 1 TB sesame oil, 1 TB sesame seeds

"fried" rice

cook as for Asian rice, but beat 4 eggs with the tamari and scramble in a pan before adding with the sesame oil