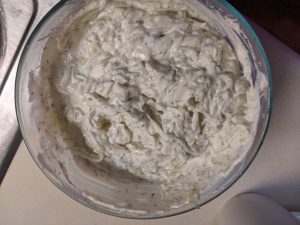 This is one of my favorite dressings that is not included in the RBS book, but I developed it to follow the framework, so it's very much ELAB-legal. (If you don't know what the RBS is, there's a description of the book in the sidebar. Highly recommended!)
If you thin it out a bit with some extra whey, you can get a tzatiki sauce. I often add a glug of sunflower lecithin to thicken it into a dip consistency. But the main recipe below is for a salad dressing.
Without further ado, here's my very yummy keto recipe for the yogurt-based treat, tzatziki, also known as cacık or tarator. If you have a food processor, this is a very easy recipe! This makes 4 servings.
Easy Tzatziki
Ingredients
1 large English (seedless) cucumber
1 tsp sea salt
1 lemon
1/4 cup fresh dill, chopped (or a heaping TB of dried dill weed)
4 large cloves of garlic, pressed
3/4 cup sour cream (full fat)
3/4 cup Greek yogurt
1/4 cup olive oil
freshly ground black pepper, to taste
Method
Peel cucumber and run through grater blade of food processor (or use a box grater). Place in colander and sprinkle salt over it, then toss with your hands. Let sit to drain for 15 minutes.
Juice a lemon into the bowl you'll store the dressing in.
Add dill, garlic, sour cream, yogurt, olive oil and pepper and mix thoroughly.
Optional: stir in 1/2 tsp Concentrace, 4 drops vitamin D3 and 4 drops vitamin K2 for extra nutrition.
Use a clean kitchen towel or several paper towels piled up. Dump the drained cucumber on top and squeeze to remove excess moisture.
Stir cucumber into bowl and refrigerate.