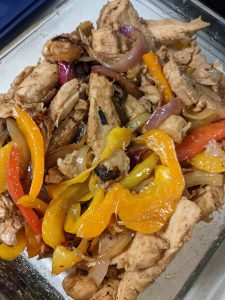 Keto chicken fajitas are one of the easiest meals to make when cooking for non-keto eaters. For the non-keto folks, provide tortillas, cheese and sour cream. Simple.
If you're wondering how to make chicken fajitas, have I got the best chicken fajitas recipe for you!
The trick is marinating both the chicken and the vegetables, so the flavors are infused through everything.
I use both the oven and stovetop to make my fajitas, cast-iron or stainless steel being preferable for the stovetop to carmelize everything nicely.
The images below show me making a double batch, one for delivery to the non-keto wasband and one for myself.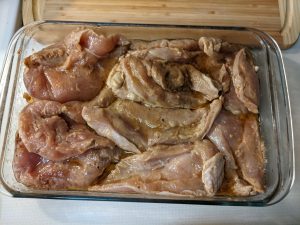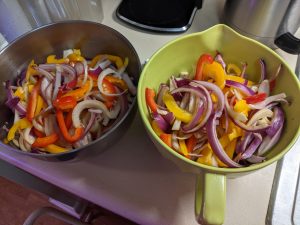 I generally start by marinating the chicken overnight right in the pan I'm going to roast it in. The next day, while the chicken roasts, I chop and marinate the veggies.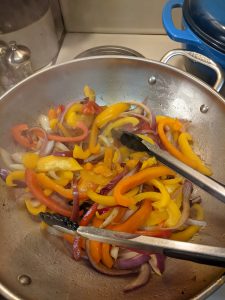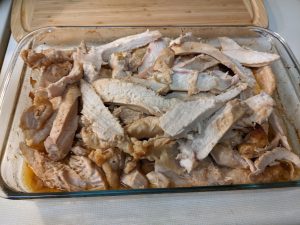 I fry the veggies while the chicken cools, then slice it into strips.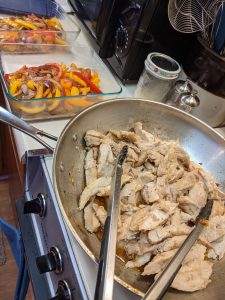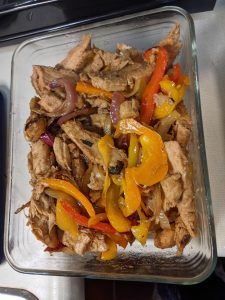 I fry the chicken until the marinade fully evaporates and the chicken browns, then add it to the veggies.
best chicken fajitas
Ingredients
main ingredients
2 lbs boneless, skinless chicken breasts
1 red bell pepper
1 orange bell pepper
1 yellow bell pepper
1 red onion
1 yellow onion
1 TB coconut or avocado oil for frying
chicken fajita marinade
4 TB lime juice
2 TB avocado oil
4 cloves garlic, pressed
2 tsp tamari (or soy sauce or coconut aminos)
1 tsp sea salt
1/2 tsp cayenne pepper
1/2 tsp freshly ground black pepper
veggie marinade
2 TB avocado oil
2 TB water
1 tsp tamari (or soy sauce or coconut aminos)
1/2 tsp lime juice
Method
Mix up chicken marinade ingredients in roasting pan. Add chicken and turn over several times; cover with plastic wrap and refrigerate overnight.
Next day, preheat oven to 350. Remove plastic wrap from chicken, turn it over again, and roast it in the mrainade for 40 minutes.
While chicken roasts, mix up the veggie marinade in a large bowl. Slice the peppers and onions and mix in the marinade.
While chicken cools, melt coconut oil in a large pan over medium-high heat. Fry the veggies and their liquid in several batches, until softened and slightly blackened. Remove each batch to a large storage container before proceeding with the next batch.
When chicken has cooled enough to handle, slice into strips. Add the chicken, along with it's marinade and pan juices to the frying pan. Cook until all liquid has evaporated and the chicken begins to brown. Mix with veggies.
---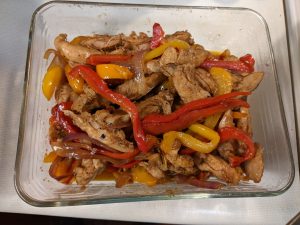 For an RBS, place 1/4 of recipe on a large bed of lettuce. This is so flavorful as is, that little is needed to dress the salad, but I've used several options to add a bit of fat to the meal:
Mash a couple avocados with a TB of lime juice, then stir in a jar of pico de gallo (makes 4 servings)
Amanda's ranch dressing
A couple TB of sour cream
ENJOY adding some Mexican flavors to your RBS!