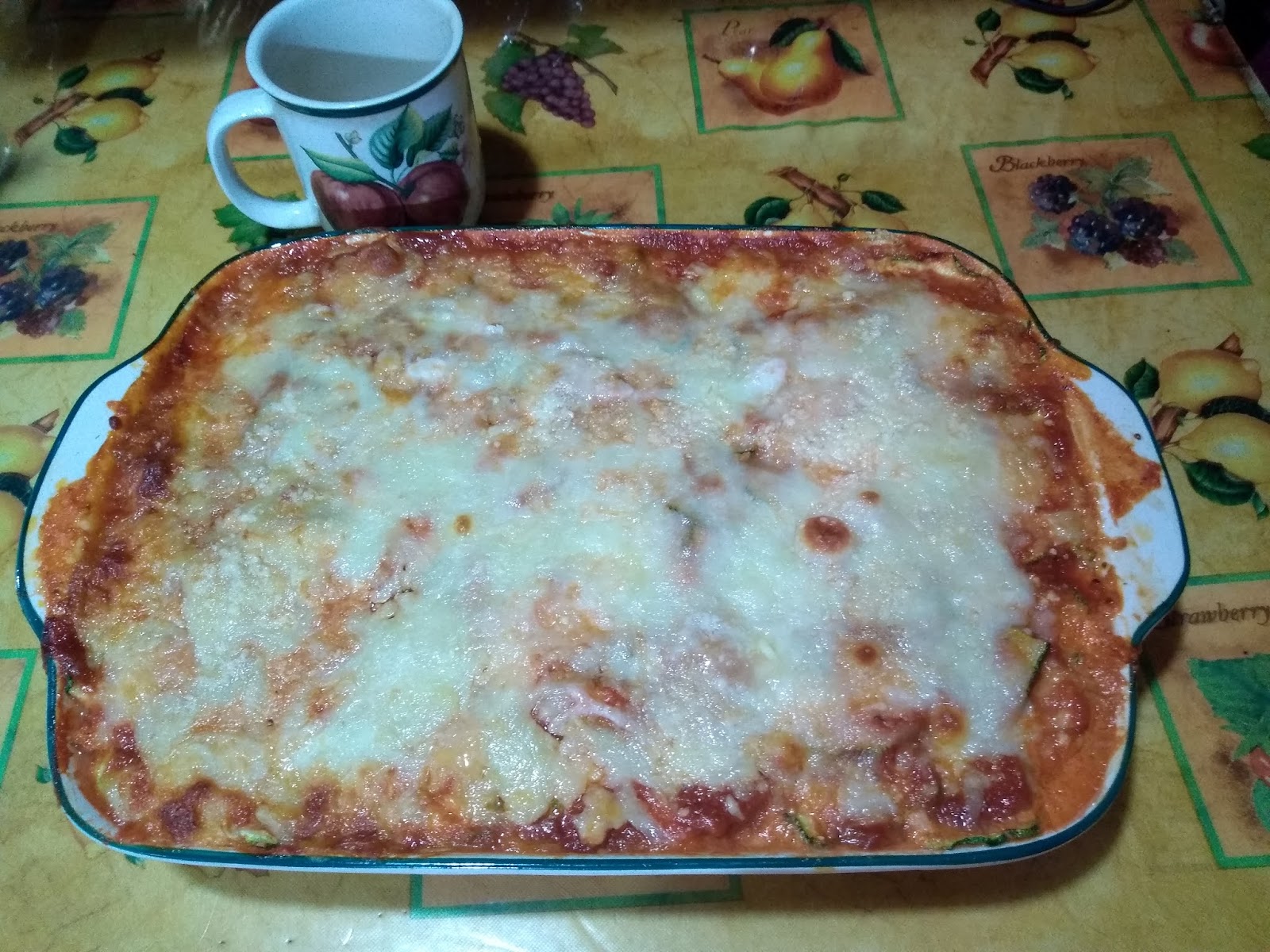 I was planning to do salad last week, but my garden presented me with entirely too much zucchini to ignore, so I needed to do something about it.
I wanted to do a cheese-based lasagna, but had a few quandaries. First, my "normal" cheese lasagna recipe is *way* too caloric. But if I cut the cheese significantly, would this vegetarian casserole have enough protein for a meal? A quick back-of-the-envelope calculation indicated it would.
Following the basic framework of the RBS, if I wanted to make 4 servings, I'd need 3 pounds of zucchini; will this fit in my lasagna pan? As you can see from the photo, it did!
So we had a relatively healthy low carb dinner possible here.
The zucchini was free, as it often is this time of year whether you garden personally or not, I have a small herb garden, already had sauce and mozzarella on hand, so only needed to buy some ricotta making for a relatively cheap low carb meal for 4 days.
I didn't want it watery though, as often happens with zucchini. But having just made dill pickles a few weeks earlier, it occurred to me that salting the zucchini in advance would draw a lot of the water out.
And if I used my food processor with the slicing blade to slice it very thinly, there'd be a lot of surface area for the salt to work on, and simplifying the prep like that would make this a pretty easy keto dinner. And very thin slices would make it cook about as fast as a lasagna made with traditional precooked noodles.
So I converted my baked zucchini recipe to a keto casserole recipe, but it is so zucchini-heavy that it could almost be considered zucchini parmesan!
After running the macros, I discovered that this easy zucchini recipe was also a very low calorie recipe. In fact, I'd need a small salad with a half portion of RBS salad dressing or a chaffle (with garlic butter?) to make it caloric enough for a keto friendly OMAD meal.
Without further ado, here's my quick and easy low carb dinner recipe:
Ingredients
3 pounds zucchini
sea salt
1/4 cup fresh chives (or 4 tsp dry)
1/8 cup fresh flat-leaf parsley (or 2 tsp dry)
1 TB fresh basil (or 1 tsp dry)
1 tsp dried oregano
a large egg
15 oz container of whole milk ricotta cheese
1/2 cup Parmesan, divided
3 cups whole milk mozzarella
jar of marinara sauce
Method
Preheat oven to 350.
Put zucchini through food processor with slicing blade. Toss with lots of sea salt and put in colander to drain for at least 15 minutes; longer is better.
Finely mince the fresh herbs (or measure if you're using dry). Mix together with the oregano.
Crack egg into a bowl and lightly beat. Mix in ricotta, the herbs, and 1/4 cup of the Parmesan.
Wipe down drained zucchini with clean kitchen towels or paper towels to remove most of the salt and dry.
In a lasagna pan, layer:
1/3 of sauce
1/3 of zucchini
1/2 of ricotta mixture
1/3 of mozzarella
1/3 of zucchini
1/3 of sauce
rest of ricotta
1/3 of mozzarella
rest of zucchini
rest of sauce
rest of mozzarella
rest of Parmesan
Bake for about 60 minutes, until the zucchini is soft through and the cheese is bubbly.


Yes, that entire lasagna pan makes only 4 very low-calorie servings; talk about a filling meal!
The sauce I used was 365 marinara from Whole Foods via Amazon, but I don't particularly recommend it. It was bought during a period of covid when shopping was difficult and my normal choice was unavailable. But you'll need the macros to compare to whatever you choose if you track macros.
P.S. For the gardeners out there, Costata Romanesco is my favorite zucchini variety; even if you miss one hiding under a leaf until it's ginormous, it's still pretty yummy and isn't too seedy. Highly recommended!