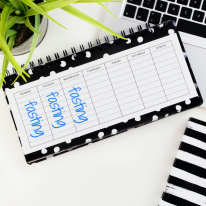 As I examined my blood glucose data for August and September of 2019, I noticed something intriguing.
I didn't need insulin at all during extended fasts, where my "need" was defined by bG over (or approaching) 200. I had set this as my top range, instead of the 140 used by most diabetics as top of the good range, based on the entire concept that elevated insulin was worse than elevated bG. If I could use less insulin, that might lead to less insulin resistance, reversing type 2 diabetes
In a lecture given by Dr. Fung to other medical professionals, I saw him give a recommendation for a cut-off; one can't just let bG do anything after all. The value he gave was in the more normal mmol/L everyone else uses, rather than mg/dL, but it turns out my training as a biochemist provided me the capability of multiplying by 18. 😉
Before my first 11-day fast: 100 u TDD insulins; bG usually over 200, spiking over 300
After my first fast: 30 u TDD insulins to maintain bG under 140
After my second 4-day fast: 20 u TDD insulins to maintain bG under 140
In fact, the lesser amount of insulin which I arrived at it each time actually gave me good numbers, indicating each reiteration was actually improving my insulin resistance, as Fung had said.
And I noticed it seemed to take about 4 days of consecutive eating to need insulin again. Hmmm….
What would happen if I didn't eat more than 4 days in a row? What if I only ate 4 days a week?
My farmer's market is open on Wednesday afternoons, and that's where I was getting most of my produce at the time. So if I shopped Wednesdays, and then prepared my dinners from that produce Thursday-Sunday, and then fasted Monday-Wednesday, I'd only be eating 4 days between fasts.
If I fast from dinner Sunday night to dinner Thursday night, that is a 4-day fast, though I'm only fasting on 3 days.
More importantly, would I need insulin at all? .
Hmmm….
Well, let's find out.