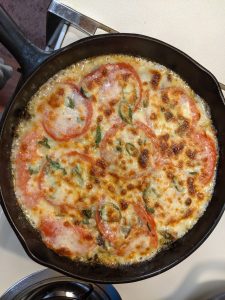 I have two cast iron skillets, so it's relatively easy for me to simultaneously make frittatas for both myself and Steve who is non-keto.
If I have leftover breakfast meat, a pound of cooked bacon, sausage or ham, it's easier still. Since I tend to batch cook protein as suggested in the RBS and SSS books (linked in sidebar), I often have precooked meat on hand.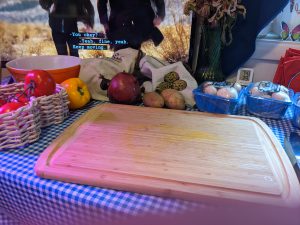 My first step is just cutting up all the stuff, which I tend to do sitting down at my kitchen table in front of my TV, cause I'm both lazy and have a need to be entertained.
Once everything is chopped up, I have to move to the stove and turn up the volume on the TV. 😉
Tomatoes go on at the last minute, just before broiling, so that their liquid doesn't prevent the eggs from cooking.
keto frittata
Ingredients
1/2 lb bacon, sausage or ham, cooked and chopped
1 medium onion, diced
1 medium bell pepper, diced
1/2 pound mushrooms, sliced
2 TB bacon grease or coconut oil
4 eggs, beaten
salt and pepper, to taste
1 medium tomato, thinly sliced
1 cup whole-milk mozzarella (cheddar works too)
a few fresh basil leaves (optional)
Method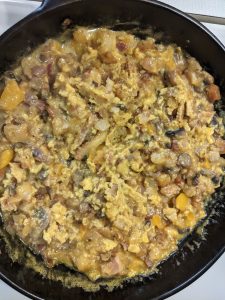 Steve's frittata when removed from heat – this shows how soft the eggs need to be when you stop to add the tomatoes and cheese, the frittata will firm up under the broiler
After prepping the meat and vegetables, preheat broiler to high. Heat grease or oil in cast-iron skillet over medium-high heat.
Add meat, onion, bell pepper and mushrooms and season lightly with salt to help them exude their liquid faster. Cook until all liquid has evaporated and vegetables are limp and slightly browned, stirring occasionally.
Stir in eggs and season everything with salt and pepper (very light on the salt since the meats are salty; heavier on the pepper. Stir until just barely soft-set and still slightly wet, then remove from heat.
Top with tomatoes, basil (if using) and cheese.
Place under broiler until cheese is melted and browned. Check EVERY MINUTE as the difference between browned and burnt is very fast!
Cut into 4 slices and serve.
For the non-keto version, I peel and dice 2 potatoes for his. I give them a headstart on frying by cooking in the grease or oil in a very hot skillet over high heat until they begin to brown, then lowering the heat before adding the rest of the vegetables. From there, I do the same with each skillet to the end.
For me, this makes 4 servings. I eat with a side salad as this recipe does not have enough vegetable bulk to satiate me for an OMAD meal.
Macros depend on the meat you chose, which I calculated assuming it was the yield from 1/2 lb meat, cooked completly and drained. If you use different products than I do, YMMV.
| meat used | calories | g net carbs | g fiber | g total carbs | g protein | g fat |
| --- | --- | --- | --- | --- | --- | --- |
| none | 260 | 7 | 2 | 9 | 15 | 18 |
| bacon | 360 | 8 | 2 | 10 | 23 | 26 |
| pork sausage | 410 | 9 | 2 | 11 | 23 | 75 |
| diced ham | 310 | 8 | 2 | 10 | 25 | 20 |
Enjoy!