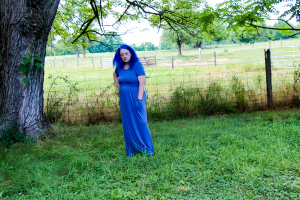 This is a post I made one year into my journey.
About 6-8 months after this photo was taken, I bought this dress in a smaller size. 😉
The original has become a house dress as it's too long to walk in anymore.
I can't believe this is *me* posting pictures so often. Camera-phobic me, who is frowning in nearly every previous photo because I'm irritated that someone is taking a picture.

After the bathing suit photo shoot, Denise talked me into splurging and getting a dress I had on my wish list as a goal item. I liked it because though it's a long dress, it has a casual t-shirt-like top, and better yet, it had pockets!

When it arrived, it fit even though, it's a size 12-14! I wore 16-18 back in college; I'm actually *smaller* than I've been in nearly 4 decades. Granted, it will look a bit better in a few more pounds, but it's not terrible now.

So we headed out to my yard for a photo shoot with this result.