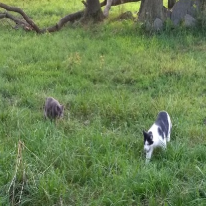 I've been wearing long, denim skirts for years; I could put these on over my head. They are long enough no one knew I had no panties on, and my home health aid only had to assist with socks.
When I'd first begun walking in the yard with the kitties, I wondered if I could possibly dress myself again. Did I have enough flexibility?
During my fast, I tried to put panties on and succeeded! I immediately order a pair of yoga pants from Amazon. When they arrived, I could do that too! I could also get one sock on so only needed help with one foot.
Meanwhile, I'd been nagging Steve to build me some sort of platform so I could pass the cow grate, and thus escape our yard. Once he did so, the kitties and I escaped and moved into the surrounding pastures. It was much harder than walking in my mowed yard. But it was so much fun!
I started calling them my little physical therapists, as they encouraged me to walk most days. I walked further daily, found myself out-of-breath between stops, got my calves sore, managed to balance through a bit the farmer hadn't made hay from, with grass to my waist.
One day, Steve accompanied us and shot this video:
(I wish I'd combed my hair!)
As I write this post, it is January 2020 and a lot colder than it was in August! I still walk with kitties at least a few times a week, whenever the forecast looks "not too miserable". This has become a tremendous joy in my life.
But aside from my personal happiness at my results, what did my endocrinologist think?