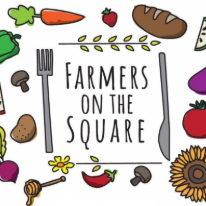 The amazing thing about the Ridiculously Big Salad concept is how easy it is.
When I began, okra was in season here in central PA. First, you have to understand that a decade earlier, I couldn't buy okra anywhere. Finally, Wegmans began selling frozen okra, which was exciting enough. But all of a sudden, a whole bunch of my local farmers were selling okra.
I went to my local farmer's market, bought okra and a bunch of various greens from my favorite farmers, hit up my meat guy and the cheesemonger for yogurt. Truly simple shopping!
It only took that long because I insisted on okra every week, having been deprived for so long. This simple shopping could be simpler still!
The RBS is ridiculously easy to shop for.
I then went home and sliced the okra and fried in butter while I cooked some sausage; 15 minutes and my easy keto menu was ready.
After my okrafest, I'd cook up 4 pounds of ground beef and split it into 8-10 portions, one for the first night, and the rest frozen in sandwich bags for other nights. Weeks of protein prepared in a few minutes.
Inspired by this simple meal plan, I'd quadruple her dressing recipes so I didn't even have to do that more than once a week.
If you go to YouTube and search for "keto meal prep," what you'll find is scores of channels spending a half day or more in the kitchen prepping for the week. Sometimes more than one person is involved in the prep! Real food is a lot of work.
Until the RBS, a simple keto diet plan that is easy to shop for and ridiculously easy to prepare.
At the end of October, I enthusiastically posted this to the Eat Like a Bear!TM group on Facebook:
I was at the farmer's market yesterday. I got 2 heads of a red butter lettuce and 2 heads of romaine. It may be too much, but last week, my RBSs weren't quite as ridiculously big as I wanted.

I also got some garlic cheese curds, some chicken breast to cook up for next week and an apple pie for the wasband.

The farmer's market is held on Wednesday, which has a lot to do with why I'm choosing to OMAD Thu-Sun; I get my ingredients ready. Then I fast Mon-Wed, which keeps me from all the samples at the market.

Yesterday, my home health aid cooked some bacon and also cooked mushrooms and onions. I thawed some precooked burger from my stash; I'm thinking bacon cheeseburgers as my topping for salad this week. I suspect pickles will be involved also; I found some great fermented dill pickles at Wegmans.

I'm thinking "dressing" will just be a mayo/yogurt/mustard mix. Won't need much with the bacon, burger and cheese which is a pretty fatty topping itself.

I'm not doing variety like in the RBS book; I'm lazy; just picking something and doing it for the week.

Next week, I'm thinking Amanda's Asian peanut dressing with napa cabbage and the chicken I got this week. I'll batch cook it with ginger, garlic and tamari one day this week.

I feel I have been so liberated from the kitchen. While I enjoy cooking, I am REALLY enjoying such simple meal plans, so little grocery shopping and so little cooking that *has* to be done. It's like a huge chore has been removed from my life and there's so little to do now.

Which gives me gobs of time to spend here instead!
I've never eaten so well, with such nutritious, satisfying food for so little time and money ever.
This way of eating is sustainable.
Around this time, Amanda was working on rewriting the RBS book and published the prologue, which totally blew me away.